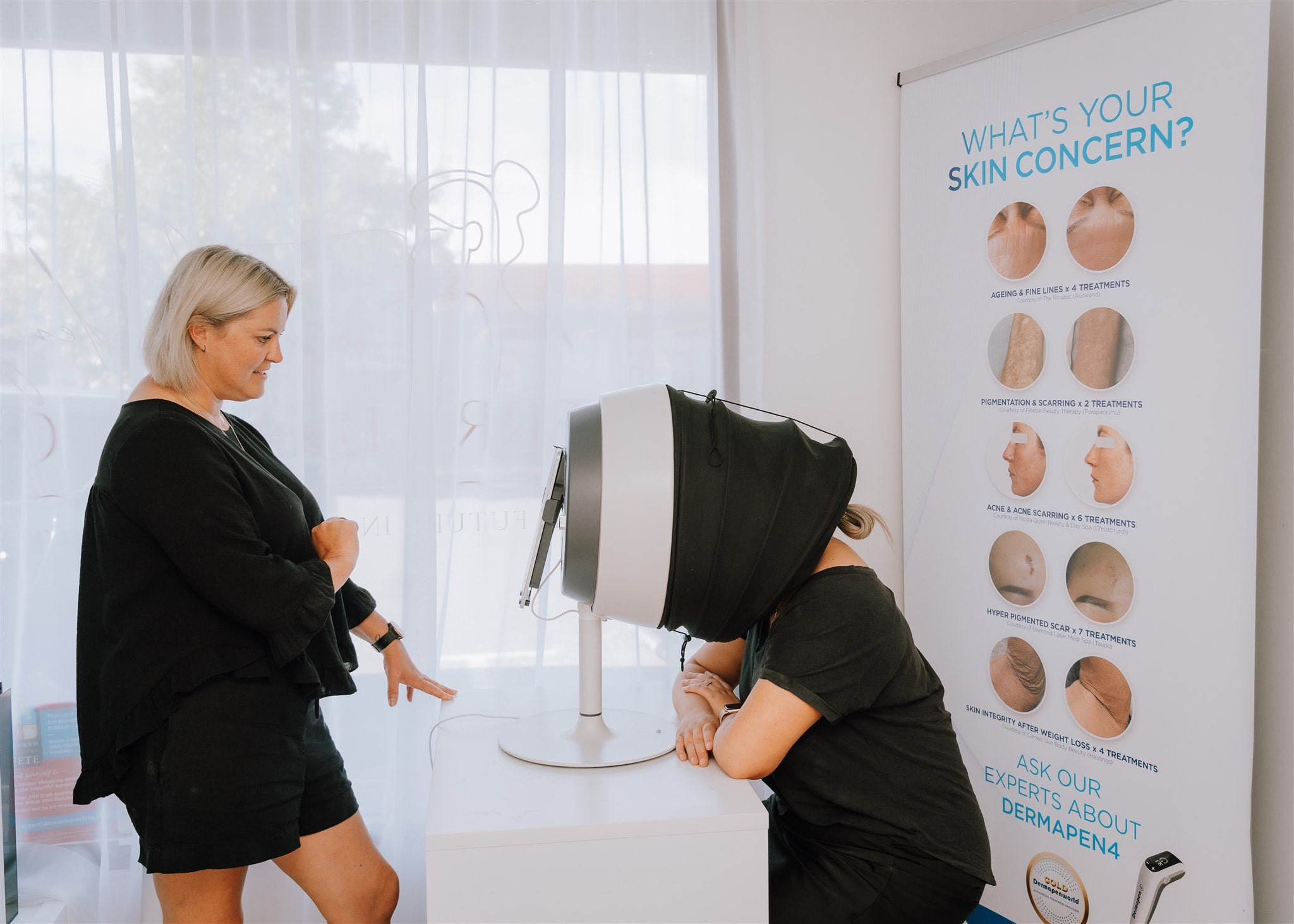 IPL
Information on IPL
IPL is a non-invasive treatment technique for hair removal and skin rejuvenation treatments, including skin clearing, redness reduction and skin tone correction.
What is IPL – Intense Pulsed Light Treatment?
IPL is a non-invasive light-based technology used to remove unwanted hair and improve many skin conditions.  Such conditions as age spots, sun spots, freckles, superficial capillaries and other unsightly discolouration of the skin can be eliminated using this technology.  IPL is also incredibly effective for those of us who suffer from facial redness and can even stimulate fibroblast causing increased collagen production in your skin for a more natural, lively, healthier looking you!
How does IPL work?
A fully trained therapist will apply a specially designed hand piece to your skin and generate an intense pulse of light which will be absorbed by targets in your skin.  The light delivered from the hand piece is delivered at high intensity during a very short period of time. It is this rapid discharge of light that provides the high energy levels required for each IPL treatment to be effective!
Costings:
Price Varies - so please refer to our online booking system. 
IPL Skin Photo Rejuvenation 
IPL Skin Rejuvenation: a fresh start for your skin
Everybody loves the sunshine!  Limited exposure is good for the soul and the immediate effects it has on the skin such as a tan and healthy glow are much desired.  However, in the long term, sun exposure decreases the production of collagen, which in turn causes damage to the skin making it feel wrinkled and coarse and looking red and tired.  Skin rejuvenation treatments will improve skin tone, texture, refine and refresh the skin by increasing the production of collagen in the skin. 
Our IPL skin rejuvenation services strategically address a number of the most common skin concerns with just a handful of treatments.
Reduce the appearance of fine lines and wrinkles, smooth out irregularities and  enhance your skin's  overall luminosity for a revitalised, youthful  glow with IPL photo rejuvenation.
IPL Acne Management 
Acne Management
Our trained clinicians are now able to offer IPL based acne management programs for their clients.  These unique treatments are designed to specifically slow the overall production of oil that leads to acne, thus dramatically reducing the chance of spots and minimising the appearance of pores in general.  Results will vary, but most people will see a significant improvement in skin condition.  Treatment should be spaced approximately 1 – 2 weeks apart.
IPL acne management targets acne-prone skin to reduce acne bacteria, breakouts and inflammation for a clearer, more balanced and healthier looking complexion.
IPL Red Vein/ Vascular Treatment 
Estimates indicate that unsightly veins are a common problem for more than 60% of the adult population!  Our trained clinicians can offer treatments which will reduce facial blemishes such as red flushing and red spots found on cheeks and around the nose with minimal downtime or risk.   A treatment cycle of 4 – 6 treatments spaced two to three weeks apart is usually required to reach your best possible outcome. 
Spider veins, broken capillaries, red spots and rosacea can all be reduced and removed to offer clients an even, more uniform complexion.
IPL Pigmentation 
Whether born with them or acquired over the course of a lifetime, virtually everyone has one or more sun spots, freckles or skin discolouration they'd love to get rid of!  A doctor's letter confirming that no skin cancers are present is usually required before commencing your treatment cycle and a series of 4 – 6 treatments spaced 4 week apart are required for optimal results.  Treatments areas such as backs of hands, forearms, décolletage and face will respond well.
 IPL pigmentation correction effectively fades and removes age spots, sun spots and discolouration to greatly improve overall skin tone, texture and radiance. 
EXPRESS FACIALS 30-45 MINUTES
Teen Facial - RRP $130
Do you have a Teen struggling with their skin, we would love to help. This affordable facial is a stepping stone into getting into a good skincare routine with your teen.
Dermaplaning Facial RRP $120
Removal of that annoying peach fuzz! Looking for a smooth babys bum skin, maybe for a special occasion? This facial is the perfect facial prior to any event where you might want flawless makeup application.
DMK ENZYME THERAPY FACIALS
DMK's famous Enzyme Therapy and skin health revision will give you instant plumping - oxygenating, detoxifying, and energising your skin, using your lymphatic system, this unique treatment brings fresh blood throughout your skin kick-starting its optimal functioning for long term results. All of our DMK facials are prescribed to your personal skin needs and wellbeing.
Signature DMK Enzyme Therapy 90 mins RRP $220 (reccomended for first timers)
Detoxifies, purifies, and stimulates skin health for your first visit. Includes deep cleanse, Enzyme Therapy and Transepidermal Infusion Cleanse-Epitoxyl | Gentle Exfoliation | Enzyme Therapy Masque | Transepidermal Infusion
Level 1 DMK Skin Health Enzyme Therapy $240
Removes, rebuilds, protects and encourages your optimal skin health. Includes deep cleanse, pre-exfoliation, Enzyme Therapy and Transepidermal Infusion. Muscle Banding Treatment is available at this level and provides breath-taking results.
Cleanse-Epitoxyl | Pre-exfoliation | Enzyme Therapy Masque | Transepidermal Infusion
Level 2 DMK Corrective Enzyme Therapy OR Muscle Banding 100 mins $280
Treats dead cell build-up and encourage cellular activity and new collagen and elastin production. Includes deep cleanse, double or advanced exfoliation, Enzyme Therapy and Transepidermal Infusion. Muscle Banding Treatment is available at this level and provides breath-taking results.
Cleanse-Epitoxyl | Corrective Exfoliation | Enzyme Therapy Masque | Transepidermal Infusion
Level 3 DMK Pro Lift Enzyme Therapy 120 mins $350
This triple-layered Enzyme Therapy Treatment provides breath-taking results. Desired by many for its instant lifting and tightening qualities, it is perfect for special occasions! Includes a pre-exfoliation, Enzyme #1, #2 & #3 layering, finishing with a Transepidermal Infusion to lock the integral nutrients into your skin.
Cleanse-Epitoxyl | Pre-Exfoliation | Triple Enzyme Therapy Masque Layering |Transepidermal Infusion
OSMOSIS FACIALS
Osmosis Ultimate Relaxtion Indulgeance facial $150
Treat yourself! This is the ultimate facial for optimal relaxation, combined with Therapeutic Medical grade ingredients. Experience a 20 minute Facial and scalp massage, with a full facial experience. The perfect Facial for first timers, self lovers or Travellers passing through. Enjoy a complimentary Artisan loose leaf tea before or after your treatment.
Osmosis Holistic Personalised Facial $175
Based on ancient eastern medicine philosophies a 4-point analysis of body temperature (both visibly & internally) , energy levels, skin appearance & skin Conditions determine the products and facial movement techniques our therapists choose for you. The energy of osmosis products paired with specific application techniques and direct energy to help heal the skin and Body. Results are felt immediately, are visible and create a balanced wellbeing.
Osmosis Medi Infusion - Revitapen Pro $220
Due to the high potency of the infusion we require clients to be using our Vitamin A serum for at least 30 days prior to this facial. Using a special liposomal Delivery system this service is really like no other. Using 14+ different potent active ingredients that penetrate the dermis without aggravating the epidermis in the process. It's an amazing facial, which booked regularly (every 4-8 weeks) can enhance results for rosacea, hyperpigmentation, Aging and blemishes/ Acne.
DERMAL NEEDLING FACIALS
Dermapen 4 Face & Decolletage $299
Full micro needling experience, start with a facial, treated with needling and serums. finished with an active face mask.
Experience one of the most popular anti-aging treatments in the world and rejuvenate your skin with Dermapen microneedling. The treatment works by stimulating new collagen and skin tissue, resulting in stronger, smoother and younger-looking skin, and improving the look of wrinkles, pigmentation, scars, alopecia, stretch marks and more. Microneedling uses the skin's natural healing response to light trauma to create new cell growth and total skin rejuvenation, with minimal downtime required. Dermapen is the original and most trusted automated skin-needling device, and the Dermapen4 uses the most advanced technology in microneedling, with less pain and more precision and safety than similar devices.
Exclaimer: Derma needling results vary, and we ask clients to commit to three sessions at least before they will see worth while results. Please ask for more info.